Take classes with me online or a private lesson during your visit in dance, music, or Tai Chi

.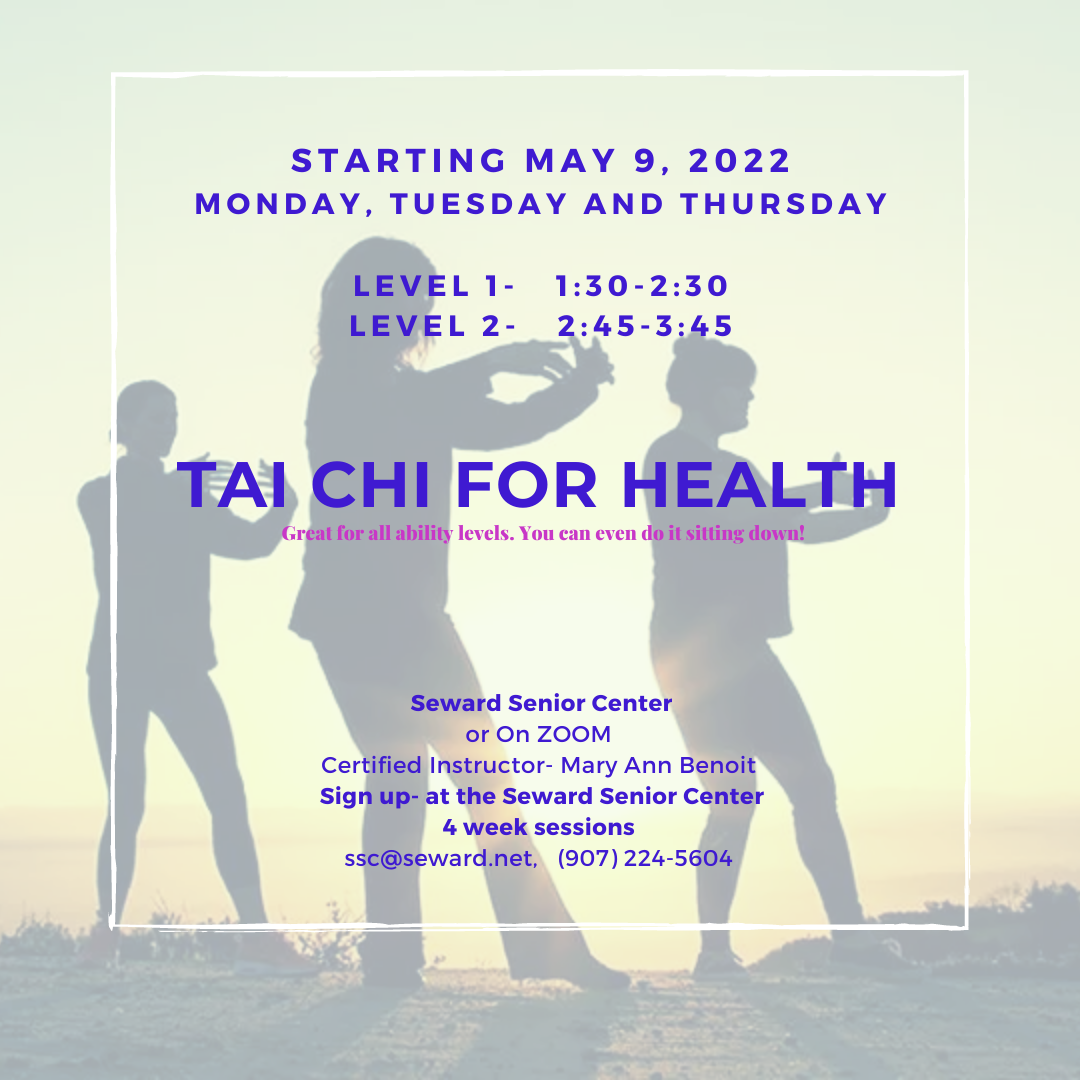 Give me a call to sign up and check on the current Zoom link, as it may change. Also, take a private Tai Chi lesson while visiting Arctic Paradise Bed and Breakfast. I am certified to teach Tai Chi for Arthritis 1 and 2, Tai Chi for Diabetes, and Tai Chi for Energy 1 and 2, through the Tai Chi for Health Institute.
Take private dance, music, or art lessons while you are here. Learn something new that you can enjoy forever after your vacation is over.
I offer you private dance instruction in  American Tribal Style Dance or Persian dance during your visit! Try out something new!
Mary Ann Benoit is a certified FatChanceBellyDance Style®  Dance Instructor and the Director of Kaleido World Percussion and Dance Company, Kaleido is a FatChanceBellyDance® Sister Studio.
Mary Ann also teaches classical and folkloric Persian Dance and is a co-Director of Tavus Dance Company and previous Assistant Director of Simorgh- Farima Dance Company of Alaska.
Mary Ann has trained in a variety of middle-eastern and central Asian dance and music styles since 2007 including Persian, American Tribal Style, Turkish, Flamenco, and Egyptian. She has trained with Carolena Nericcio of Fat Chance Belly Dance, completing General Skills, Teacher Training 1 and 2, Master teacher training, Anatomy of Step 1 and 2, Advanced Staging, Embellishments, and Variations and Improvisational Choreography.
She has taken extensive workshops or classes in Persian or Central Asian classical and folkloric dance styles with Helia Bandeh, Robyn Friend⁠, Helene Erickson, Hedieh Kishipour, Melieka Fathi, Apsara Afsanesara, Shahrzad Khorsandi, Roshana Nofret, Helene Eriksen, Natalie Nayun, Dilorom Madraximova⁠, Nazanin Badiei, Louchia, Parmida Ziaei, Tara Pandeya, Reza Hampa, Farima Berenji.
She has also taken workshops in Egyptian, Turkish, Flamenco, or Fusion styles with Artemis, Aziza, Ahmed Hussien, Nourhan Sharif, Joanna Saahirah, Karim Nagi, Gigi Dilsah, Silvia Salamanca, Ashley Lopez, Elseanne, WildCard Belly Dance, Cassandra, Amel Tafsout, Cera Byer, Morocco, Artemis, Mira Betz, Frank Farinaro, Steven Eggers, Bridie, TerriAnne, Mardi Love, Naimah, Jodi Waseca, Jill Parker, Rhinna, Myra Krien, Alexandria King, Saqra, Sadie Marquardt, Sahra Saeeda (Journey through Egypt 1), Elizabeth Strong, Kami Liddle, Ansuya, Manhattan Tribal, Lacey Sanchez, Troupe Hypnotica, Rabia Duddy, Mish Mish, Flamenco North, Carrie Moore, Lori Angove, Joanna Caselli, Melissa Wanamaker, Aksana, Siobhan Maureen O'Hara, Brittney Mitchell, Nicole Yvonne, and Kathy Burgoyne.
For information on current class schedules for American Tribal Style® classes or performances by Kaleido,  visit our Facebook page,
For information on upcoming performances by Tavus Dance Company,   visit our Facebook page.
Private dance lessons are available at $35 per hour,
FCBD®, ATS®, and American Tribal Style® are federally registered trademarks of FatChanceBellyDance, Inc. For more information, please visit Fat Chance Belly Dance.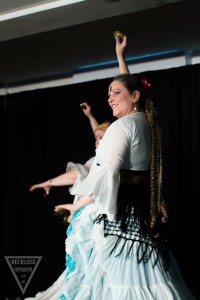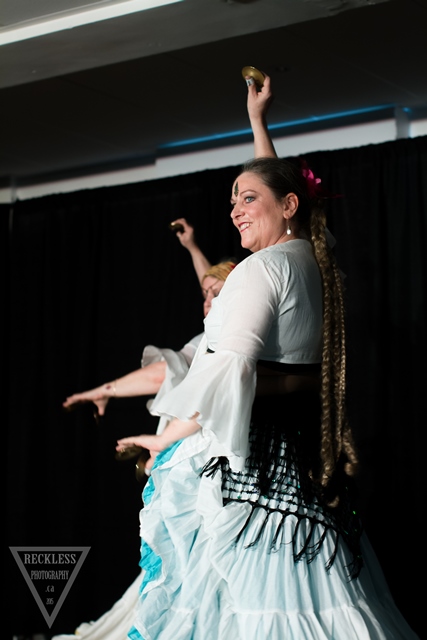 Set up a private drum lesson during your vacation. Learn world percussion on a variety of traditional instruments such doumbec, frame drum, or djembe.
Mary Ann has 25 years of experience as a musician as a jazz bass player and currently plays and teaches doumbec, frame drums, djembe, taurine, zills, and other world percussion instruments. She has taken percussion workshops with Issam Houshan, Helm, Brothers of the Baladi, Saqra, and Eddie Woods. She is currently studying Persian drumming with Amir Etemadzadeh.
Private percussion lessons are available at $75 per hour. Drums are provided for the student.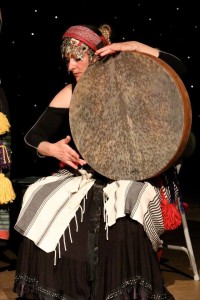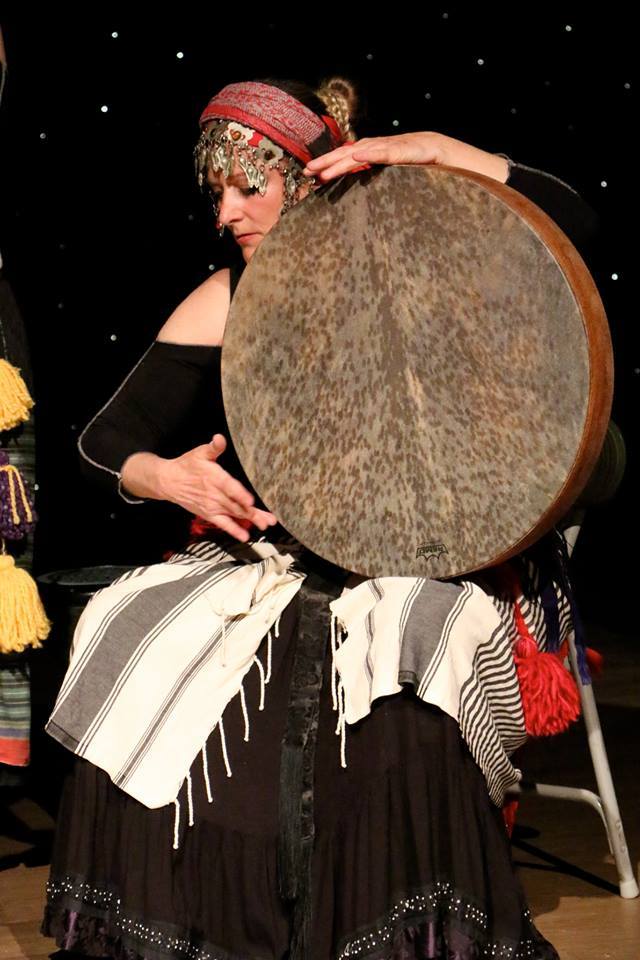 Try private dance, music, and Tai Chi lessons today.
Call 907-491-1253 today to make a reservation.